Company Overview
• Established in January 1926
• 2014 sales – 2,011 billion Yen
• Workforce – 45,789
• Main businesses

–  Fibers and textiles
–  "Plastics and Chemicals"
–  IT related products
–  Carbon Fibre Composite Materials
–  Environment and Engineering
–  Life Science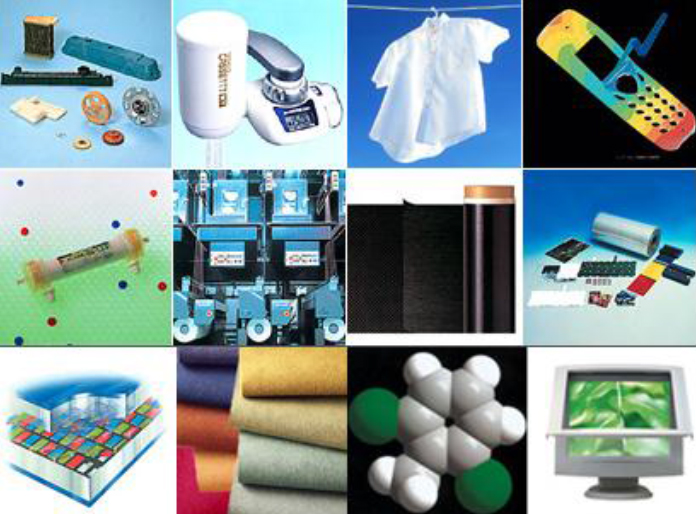 Toray Plastic Resins Line-up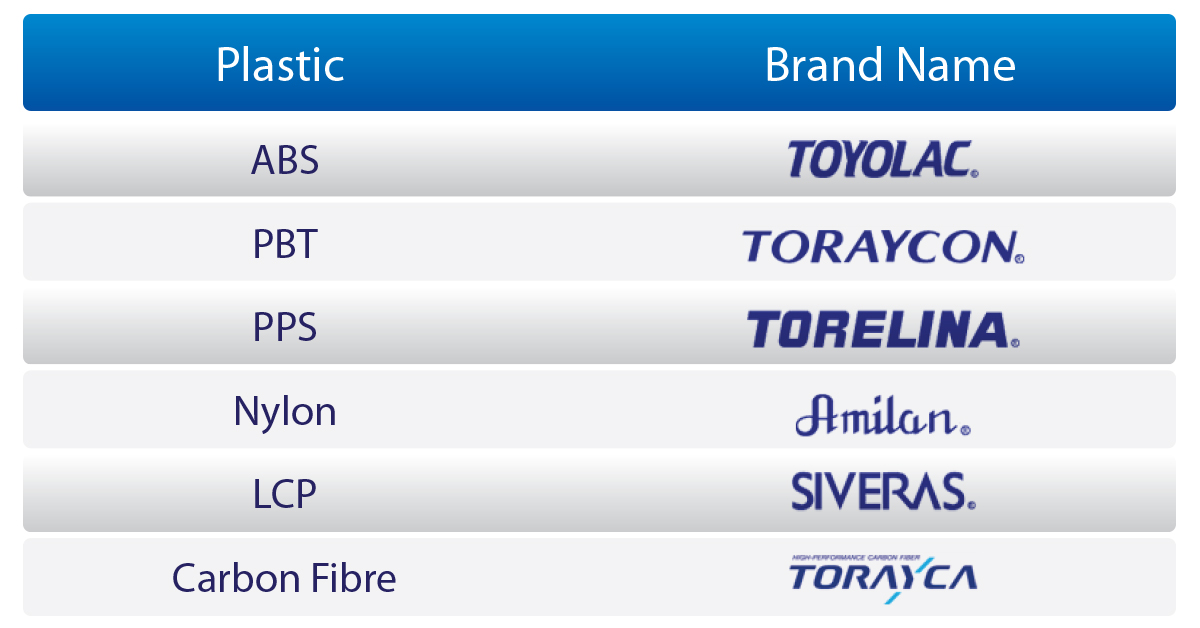 ABS Resin TOYOLAC®
• TOYOLAC® is widely used in both industrial and household goods due to its unique set of properties combining "strength," "lightness" and "aesthetics" as well as its excellent mechanical, chemical, electrical properties, and superior process-ability.
• Resin is available not only in the form of general-purpose grades that are highly cost-competitive, but also in the form of high-performance grades such as alloys with in-house engineering plastics, transparent and antistatic grades, and carbon fiber reinforced grades.
• Currently, TOYOLAC® represents the best ABS resin available for new projects, new designs, and new applications.
• Major ABS resin producers South East Asia with contingency production plant in Japan.
• World No. 1 producer for Transparent ABS resin (capacity & quality).
• Technology Centre located in manufacturing plant to develop new grades of ABS resin, provide solution for customers, and carry out process improvement of ABS resin, especially targeting to China and South East Asia market on March 2005.
• Production Capacity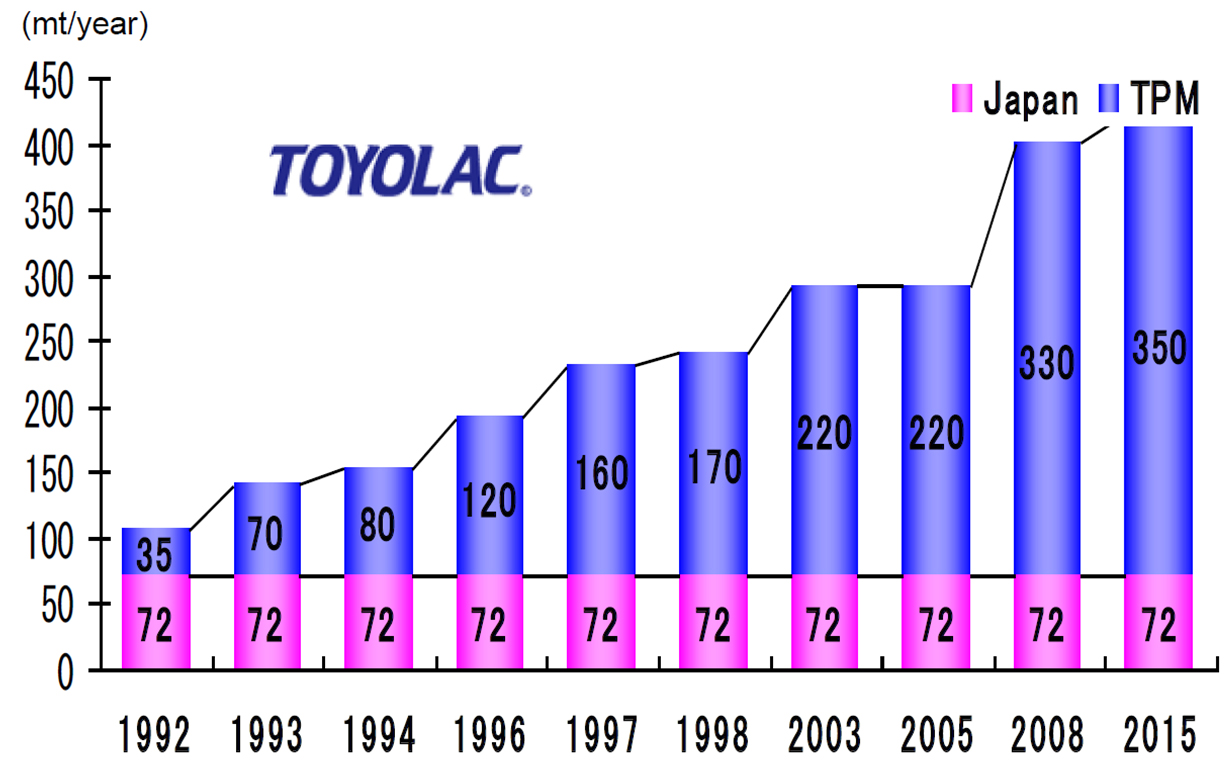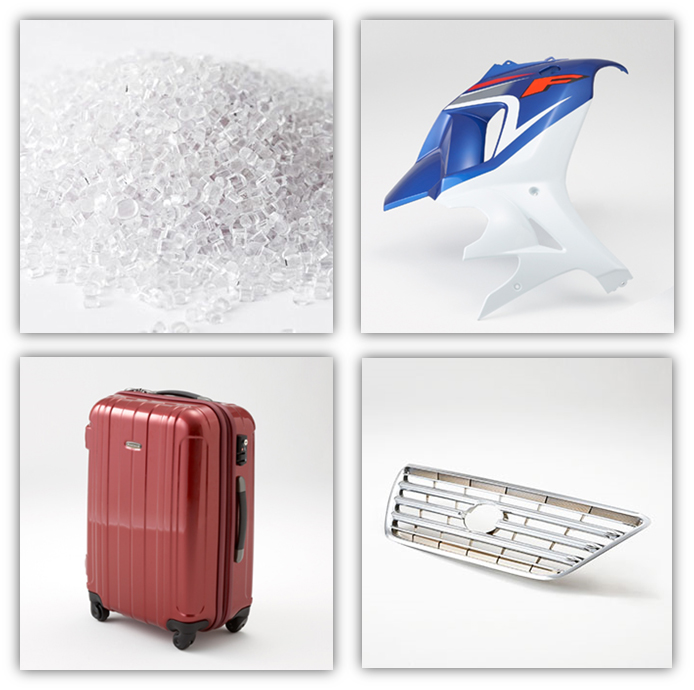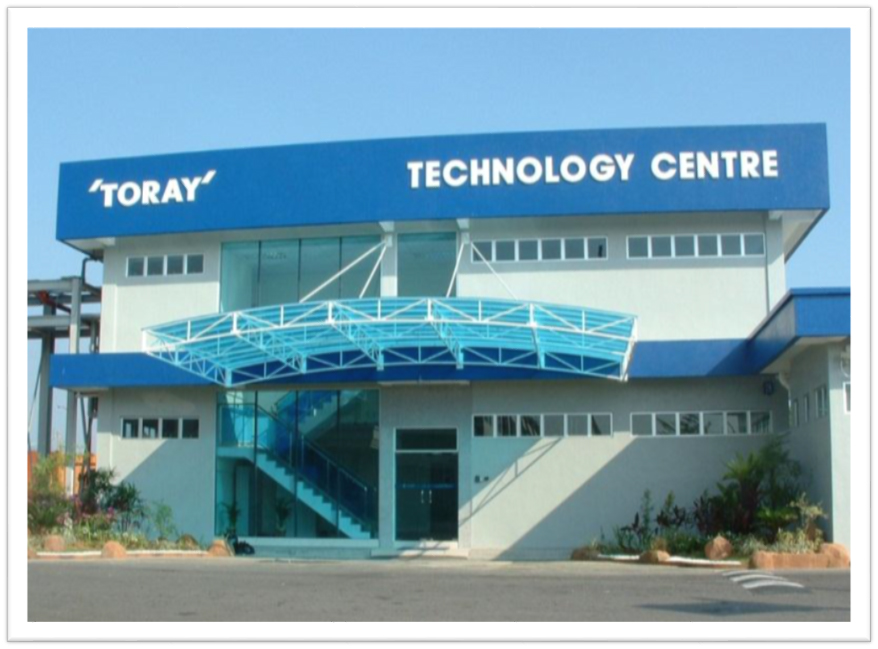 PBT Resin TORAYCON®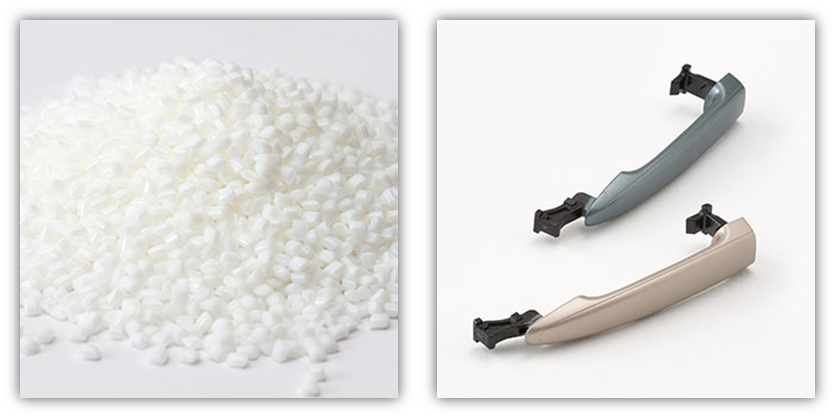 • Toray PBT Resin TORAYCON® (polybutylene terephthalate) is a polyester-based thermoplastic engineering plastic with excellent electrical properties and chemical resistance.
• Unique features can be easily provided by compounding various additives, glass fibers, flame retardants, and utilizing solubilizing techniques. Multiple grades are available for use. Furthermore, it is easy to add any color.
• The product is used in a large number of applications spanning several fields, including electrical and electronic devices, connectors and capacitor casing, automotive electronics, OA equipment, building materials, and industrial machinery parts.
PPS Resin TORELINA®
• Toray PPS resin is a thermal engineering plastic.
• Types of PPS resin include both the cross linked and linear type.
• Toray engages in total production from base polymers to compounds, offering a wide variety of grades.

Nylon Resin AMILAN®
• The Toray nylon resin (polyamide resin) AMILAN® is a thermoplastic engineering plastic containing an amide group (-CONH-) and it exhibits excellent strength, toughness, heat resistance, and anti-friction wear resistance.
• Toray's lineup consists of Nylon 6, Nylon 66, Nylon 610 as well as a large number of co-polymer nylon formulations.
• In addition, a variety of grades designed for various customer needs and applications are available, including non-reinforced, reinforced, flame retardant, anti-friction wear, high impact, film, monofilament, and blow molding grades.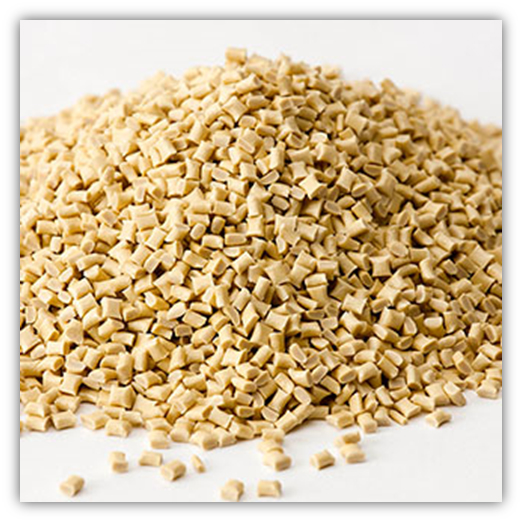 LCP Resin SIVERAS®
• Toray liquid crystal polyester resin SIVERAS® is a super engineering plastic that offers the following properties that are not found in standard engineering plastics:
– High strength and high modulus,
– High heat resistance,
– Dimensional stability,
– Good molding properties,
– Good vibration absorption properties.
• A special feature of SIVERAS® is its superiority to conventional liquid crystal polymers in terms of molding properties (fluidity, stability in retention).
Carbon Fiber TORAYCA®
• TORAYCA® , is a thermoplastic carbon fiber reinforced resin containing cutting edge carbon fiber.
• It is light weight and features excellent strength, stiffness, dimensional accuracy, and sliding properties.
• A number of base resins suited for various applications are available (PP PC , ABS , Nylon 6, Nylon 66, Nylon 610, PBT, and PPS resins).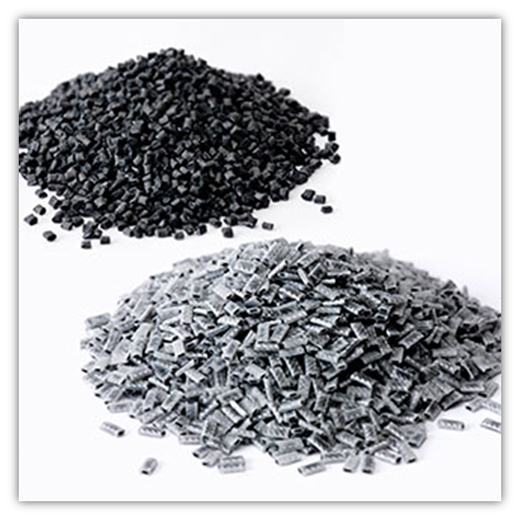 Annual Global Capacity